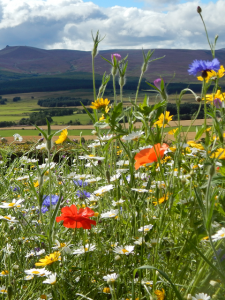 Now you've got your widflower seeds, you'll be wanting to sow them and bring the bees and other pollinators into your garden.
How to sow your seeds
Seeing your seeds come alive is easy and fun: follow these simple guides to show you how to sow in soil or, if you fancy getting creative, in a pot or container.
First you will want to choose your spot – ideally, this will be a brightly lit area with fairly low fertility. (If you are using high fertility top soil, you may wish to mix in some sand and grit to reduce the nutrient).
For best results, prepare your space a couple of weeks in advance, so that you can remove any grass or perennial weed regrowth.
Sowing in soil
Each packet of seeds will cover about a square metre, so bear this in mind when choosing a site.
What will I need?
You will need some basic gardening tools:
garden fork or spade
garden trowel (you can use a fish slice if you don't have one)
garden rake (a large fork will also work)
watering can or jug
wild flower seed mix
gardening gloves (optional)
Follow these steps…
Pick a nice day when the soil is neither too wet nor too dry
Dig over the soil and break up or put aside large clumps
Remove weeds so the wild flowers don't have any competition, and any large stones
Rake the soil to make it fine and crumbly
Scatter your seeds evenly – a little at a time for an even spread
(Tip: to make spreading easier, mix seeds in a bucket with a small amount of dry play sand so you can see where you've sown them)
Rake the soil gently to just cover the seeds with a very thin layer (1mm) of fine crumbly soil
Be careful not to bury them or they won't grow as they will need the sunlight for germination
Water the whole area gently using a watering can, taking care not to wash your seeds away
You should see some shoots in just a couple of weeks…
Getting creative with containers
Sowing your wild flower seeds in pots is ideal for a balcony, patio or doorstep.
You will need:
pots / containers
stones (or broken crockery)
soil
watering can or jug
wildflower seed mix
gardening gloves (optional)
Follow these steps:
Check your container has a few holes in the base to let excess water drain out. Otherwise, use a drill or sharp instrument to add holes, taking care not to hurt yourself.
Add a few stones or broken crockery to the bottom to help with drainage.
Move your container to your chosen space before filling it, as it's much easier to move when empty.
Scatter the mix over the area, and water gently
Keep the soil damp whilst the seed germinates*
Place the pot in a sunny spot, and don't overwater.
Grow until it goes to seed. Save the seed and then cut back severely to about an inch. Wait for the following year's flowers ..
*After sowing your seeds, make sure that the soil remains moist and water it if dry. This is the most vulnerable time for seeds, and seedlings can be killed if the soil dries out completely.
Your seeds should germinate within a couple of weeks of being sown, depending on the weather – look for the tiny green shoots of life.
Nuturing your seedlings…
Grow Wild has some great guidance on how to Nurture your seedlings.