Do you have an idea for a project?
Don't let a lack of funding or project management stop you from doing it – that's why we're here.
We make your projects happen at no cost to you…

The Wild Ideas team give schools, charities, groups and voluntary and community organisations the support they need to make a difference to local lives and issues.
We work with groups and organisations to help to deliver high-quality projects and gain the funding to pay for them.
How does it work?
It all starts with a conversation to gain an overview of what you want to do and how we can help.
Our aim is to minimise the costs to the community groups we support and, having developed the plan with you, we aim to develop the funding bid for your project on a no-win, no-fee basis. We will agree the elements that our team will deliver during the project and we are not paid for these until you are awarded the funding for which we have applied.
What are the steps involved in delivering a project with the Wild Ideas team?
We like to keep it simple – we will meet with you and take it from there – it will generally look a bit like this:
(click image for larger view)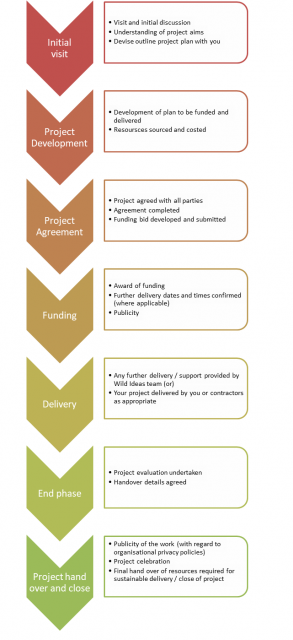 Interested in how we can help? Contact us today…