So you want to start a Friends of Group?
Many parks, green spaces and public areas have a Friends group who carry out various activities to support the space or support communities to engage with it.
By joining a Friends Group is you can support your local green space and share ideas and skills with like-minded people.
What are friends' groups?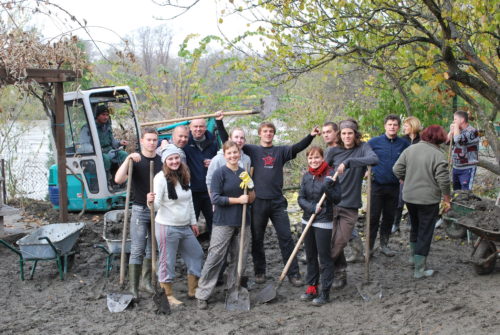 A friends group is formed when a group of around four or more people come together with shared aims for their local green space(s).
This group will be prepared to hold meetings to plan action, agree a constitution (we can provide a simple constitution template for your group to amend), open a bank account and obtain insurance for your activities. We will help you to find funding to get started.
Contact Debs (our Communities Programme Co-ordinator) who can help you to find out if there's a Friends Group in your area.
What do friends groups do?
All groups are different, but get involved in the following types of activities:
Nature engagement activities
Fundraising, such as:

Events in parks or local spaces
Sponsored activity
Applying for grants

Sharing a vision for the park
Engaging with local people to share views (consultation)
Planting or other practical work in parks
Working with their
Working with the landowner to identify projects and improvements in your park
You can get as involved as you like.
WHY SHOULD I JOIN A FRIENDS GROUP?
Being a member of a Friends group is fun – you will get to meet other people who care about their local parks and green spaces and will be able to enjoy the social side of being part of a group.
You can receive training – aspects such as project management, risk assessment, horticulture, tool use and managing your site for wildlife… If you require other training for your friends group, we can help you to find and access this training.
No friends group for your local green space? Want to get one started?
Contact our Programme Co-ordinator, Debs, for help to get your group started
Some advice on getting started with your group and project here.